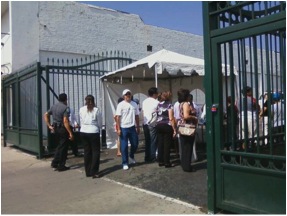 Peruvians in Los Angeles and surrounding areas headed to the General Consulate of Peru to vote for an important referendum that affects millions of Peruvians.  Surprisingly, when they arrived to cast their votes, no one was there.
It was 10:30 a.m. and the doors to the 3450 Wilshire building in Los Angeles were closed. A sign on the door read that voters must head to another location in Hollywood. The Los Angeles office currently represents Peruvians as far as San Francisco, San Diego and even Arizona, hence frustrating many who drove long distances.
Complying with their civic duties of compulsory voting, 150 Peruvians arrived at the Hollywood building.
But none of the assigned volunteers showed up.
"Many people were shouting and expressing negative reactions," said Alhambra resident Maria de Asin, one of many Peruvians hoping to vote.
Peruvians were scheduled to vote that day for various important issues such as regional elections and a measure which would return money to a large number of people who paid taxes for housing projects but never got their fair share when the project collapsed in 1998. The elections for mayor were particularly important since it resulted in Lima's first female mayor.
Peruvians were met by Gabriel Pacheco, the Deputy Consul General of Peru. According to those who were present, Pacheco stated that none of the volunteers decided to come, so they were forced to shut down the building. Many determined voters advised Pacheco to select new volunteers so they can proceed, but he declined.
"This is not fair. Our rights as citizens have been violated by the lack of organization and care by the administration in Los Angeles," said Luis Yunis, who initiated a sign-in sheet for the frustrated voters to document who was there. Pacheco refused to sign it, stating that he was no "superstar."
Pacheco said he needed to follow the protocol of La Oficina Nacional de Procesos Electorales, which states that if no volunteers show up by noon, they must close the tables and no one can vote. He noted that it was the responsibility of Peruvian citizens to help this event work and they did not collaborate.
"If we were in Peru we would use public force to obtain new voluntaries, but here in Los Angeles we do not have that, so there is no way to enforce people to be volunteers," said Pacheco.
The day ended with security guards escorting Peruvians out of the building.
"It was heartbreaking to see our fellow Peruvians being turned away from one of the most basic rights that we have as citizens of our country: the right to vote," said Peruvian citizen and Los Angeles resident Veronica Ponce de Leon as she exited the premises.
https://lagente.org/wp-content/uploads/2010/11/peru-voting.jpg
216
287
admin
https://lagente.org/wp-content/uploads/2014/04/LAGENTE156H.png
admin
2010-11-18 13:25:27
2010-11-18 13:25:27
Denied the Right to Vote